"Ringo Starr, George Harrison, John Lennon and Yoko Ono were sitting behind us. The talk of the festival was that they might join Dylan on stage."
Penny Warder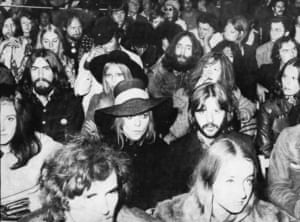 The organisers of the 1969 Isle of Wight festival, brothers Ronnie and Ray Foulk, had managed to pull off the amazing coup of getting Bob Dylan to headline. Woodstock, which had taken place two weeks earlier on his doorstep in upstate New York, had tried to persuade him but he'd turned them down. He'd been in semi-retirement for three years after a motorbike accident, and this was his comeback.
In this picture, we're waiting in the VIP area just below the stage for him to come on; it took about two hours because there were some problems with microphones. The chap sitting next to me is Vernon Warder, my boyfriend of the time. He had long holidays from art college and was working at the festival, doing artwork for the signs on the front of the stage, and helping with security and management. As a result, he had a VIP pass and, being his partner, I got one, too. Otherwise it was £2 for a ticket.
I was aware that Ringo Starr, George Harrison, John Lennon and Yoko Ono were sitting behind us. The talk of the festival was that they might join Dylan on stage. It never happened. I was a huge Beatles fan, but had not seen them live; I kept turning round to look at them. We were about three rows from the front and could smell the hash that someone was smoking behind us.
When Dylan finally came on, he was barely 10 feet away from me. It was so exciting. He played for only an hour, for which he got some stick in the press, but it was incredibly exhilarating. He did two encores.
After he finished, I went back to my parents' house on the island, where I grew up. Even though I had been away at college for two years, there was no way they would allow me to stay out all night. I remember it was a real struggle trying to find a lift, because we didn't have cars and couldn't afford taxis.
Throughout the festival, I went back and forth between the VIP arena and backstage. I once bumped into Lennon and remember thinking, "Oh, he's not very tall, is he?" I remember being really excited about going into a portable toilet after Ono had been in there. I wasn't even aware of the celebrities: Jane Fonda, Elizabeth Taylor and Eric Clapton were all there. That's how young and naive I was.
I first saw this photo last summer. Some friends of mine who live on the Isle of Wight went to the launch of Ray Foulk's book, Stealing Dylan From Woodstock, his account of the festival. One of them texted me: "Were you sitting in front of the Beatles at the 1969 festival?" I said yes, and she wrote back: "Your photo's in the book!"
This was my first festival. I went to the Isle of Wight the following year, when Jimi Hendrix played shortly before his death. I've been to others since, but nothing will match those two experiences.
Interview: Erica Buist (Guardian 5/8/16)